Perilla frutescens, commonly known as perilla, is an annual plant native to Southeast Asia. It is a traditional herb, known as egoma in Japanese, and is one of the 50 fundamental herbs in Traditional Chinese Medicine(TCM). Egoma oil was widely used for about 800 years until the late Edo period (1603~1868) when rapeseed oil spreads nationwide. In the 1990s, Egoma oil which is rich in α-linolenic (omega-3 unsaturated fatty acid) acid became popular as a health supplement, especially in the Far East. In fact, it is one of the best known and most utilized oils in Japan.
Egoma is called "juunen" (ten years) in many places in Japan like Karumai town, where perilla has been cultivated since ancient times. There is a hypothesis for the name, according to which the name is derived, for if you eat it, you will live ten years long.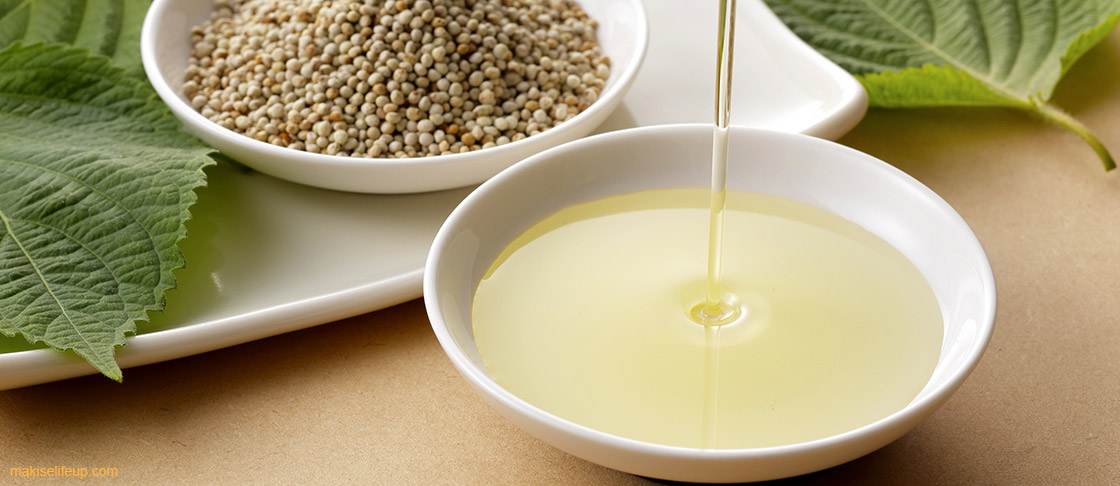 What Makes Egoma Seed Oil So Special
The oil of Egoma is rich in polyunsaturated fatty acids and contains the highest proportion of omega-3 fatty acids in contrast to other seed oils. These fatty acids are essential as they cannot be synthesized by the human body and should be obtained from the diet. The omega-3 fatty acids of Egoma oil are alpha-linolenic acid (ALA) and its proportion is 60% to 70%. It also contains vital omega-6 and omega-9 fatty acids.
It promotes the production of benign eicosanoids and suppresses the production of malignant eicosanoids. "Eicosanoid" is the final substance produced in the cell membrane from essential fatty acids, and has 20 carbon atoms in the skeleton that acts like a powerful hormone in and around the cell.
Effects of benign eicosanoids: Anti-inflammation, vasodilation, platelet aggregation suppression, immune system enhancement, cancer suppression, allergy symptom relief
Effects of malignant eicosanoids: Pro-inflammation, vasoconstriction, promotion of platelet aggregation, decrease immune system, allergic symptoms
Egoma oil is abundant in rosmarinic acid. 
Rosmarinic acid is a kind of polyphenol contained in Lamiaceae herbs. Rosmarinic acid has a structure in which two caffeic acids are linked by an ester bond and is a natural antioxidant with a health effect similar to tannin.
Effects of Rosmarinic acid
Prevents a decline in brain function. Very promising to alleviate Alzheimer's disease.
Suppress allergic diseases such as asthma, hay fever, atopic dermatitis.
Improves insulin sensitivity.
Antibacterial and antiviral effects
In addition to rosmarinic acid, perilla seed oil contains apigenin and luteolin. Both are a flavone, a type of flavonoid, with a yellow crystalline appearance.
Apigenin: Recent research has shown that "Apigenin" stimulates the production of new brain cells, which in turn connect the brain cells and enhance the function of synapses involved in human neural activity.
Luteolin: Luteolin is a flavonoid found in citrus fruits and plants like Perilla, which is one of the best cancer fighters ever. It inhibits aromatase which is the key enzyme in estrogen biosynthesis. Therefore, it could contribute to the prevention of estrogen-dependent cancers such as breast cancer.
Some Others Health Effects and Benefits of Egoma Oil
This oil has recently been attracting attention from people who care about health. You get many benefits from this oil if you add it regularly in your diet. Here are some of the health effects and benefits of perilla seed oil
Egoma Oil for Heart Health
Studies have shown that the presence of egoma oil can help the cardiovascular system. This oil is high in omega-3 fatty acids, which are good for lowering cholesterol levels. This oil can improve the functionality of the heart and the blood circulation in the human body, improves numerous heart disease risk factors.
Egoma for Brain and Memory Health
It has been shown that egoma oil can improve memory and improves the ability to concentrate. Omega-3 on this oil can reduce anxiety and depression. It helps improve the ability to focus, concentrate, and memory. Because of the anti-inflammatory effect on egoma oil, it can also help to reduce inflammation in the brain. The daily intake of egoma oil reduces the risk of Alzheimer's disease and can help decrease age-associated cognitive decline.
Egoma Oil for Skin
It is a great supplement that helps to keep your skin healthy. It can even reverse the appearance of skin aging, to give you beautiful, healthy, and youthful skin. This oil is a very good antioxidant that helps to get rid of free radicals and helps in prevention of skin damage. It also helps with skin conditions like eczema and psoriasis.
Egoma Oil for Immune System
The human immune system is an amazing thing. It keeps us safe from invaders such as bacteria, viruses, and other pathogens. Adding Egoma oil in the diet builds a strong immune system. This oil provides the right amount of antioxidants to help your body work right, and they can help eliminate the free radicals in your body.
Egoma Oil from a Diet Perspective
Egoma oil is advantageous and beneficial for our health. It contains a lot of ingredients which helps in the burning of fat accumulated in the body and helps in preventing obesity. This oil is effective for weight management unlike general oils. The rosmarinic acid, a kind of polyphenol, present in this oil helps prevent excess sugar from being absorbed by the body and prevents rise in the blood sugar.
But this is not the only reason that Egoma oil is considered to be a common healthy diet food. It has also been shown to help prevent muscle and joint health, eye health, inflammation, high blood pressure, stroke, diabetes, as well as reduce the risk of getting certain forms of cancer, including breast cancer. Therefore, it is very important for you to know the advantages and the benefits of using egoma oil as an essential part of your diet.
Recommended Ways to Eat Egoma Oil
Our sachet pack is very convenient to use. You can take a sachet directly or mix with other foods. Here are some recommended ways to eat our egoma oil.
According to the Japanese Ministry of Health, Labor, and Welfare, the standard daily intake of 1.6 to 2.4 g (adult) of omega-3 fatty acids per day. To eat the same amount you have to eat about 3 horse mackerel (120g per fish) a day. But you can achieve this healthy target with only one sachet of Egoma oil.
Egoma oil has a very wide range of health benefits, including being quite nutritious. Our Egoma oil is made of cold-pressed 100% perilla seeds. It is an exceptional natural oil that is currently gaining global recognition because of its antioxidant, anti-aging, antiseptic, and anti-allergic properties. The results of all these benefits make it well worth trying.
Americans and Europeans are not so familiar with perilla seed oil (In Japan, it is called egoma oil). But health promoting effects are much more versatile than flaxseed Oil.
In my daily life, instead of three omega-3 gel capsules of 1000mg, I take one sachet = 3g of this perilla seed oil with juice, soup, and food. We don't have to take unnecessary gel ingredients and above all it is delicious, portable, and does not oxidize easily. I really would like to introduce our egoma seed oil (perilla seed oil) to you.