Shell ginger (Alpinia zerumbet is the botanical name) is a tropical perennial plant that grows in abundance in Okinawa and continues to be used in traditional Okinawan cuisine and as a traditional remedy. The leaves of shell ginger come in two forms – deep green and gold striped. It blooms amazing yellow flowers around July and white blossoms in early summer. Shell ginger has a long and respected history.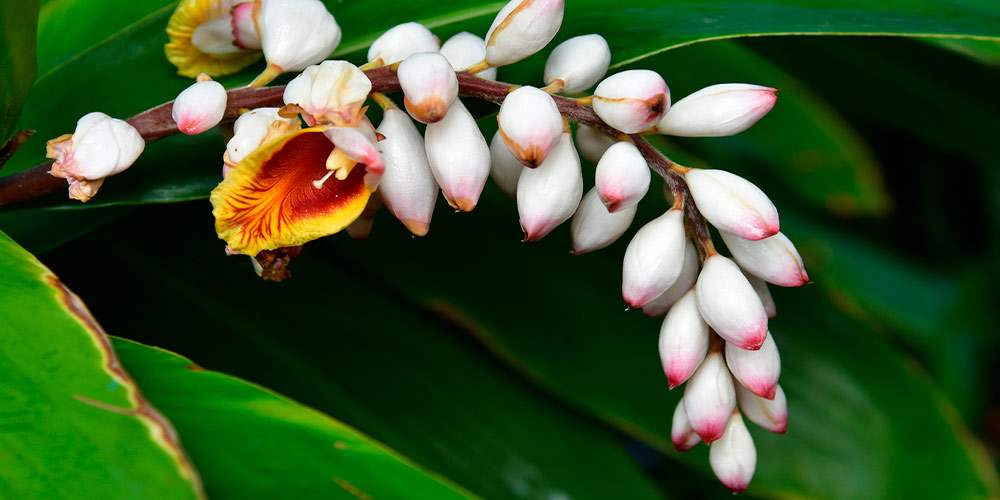 You may not be familiar with the plant called "Shell Ginger" (Alpinia zerumbet). Shell ginger is different from ordinary ginger. Please don't confuse shell ginger with ordinary one. Very much different in health benefits. Because it grows in Okinawa's subtropical climate, it has thousands of phytochemicals that protect itself from strong sunlight.
For 12 years, we have been producing health supplements from this plant. Our brand name is "JIPANG Ginger" which helps thousands of people to maintain and improve their health and vitality not only in Japan but also all over the world. And recently, we started to offer two kinds of JIPANG Ginger.
Shell Ginger leaves fermented into powder (Capsule type) – 

more info>>

Simple powder of shell ginger leaves (Powder Type)
Does Shell Ginger Promote Longevity?
With a life expectancy of 84.55 years in 2019, Japan always on the top list when it comes longest life expectancy. Many longest-living people of Japan are from Okinawa where many residents are over 100 years old. Among the many reasons contributing to their longevity, nutrition and the "Okinawan diet" are said to be key elements for highest life expectancy and healthy lives in Okinawa
So what exactly makes the Okinawan diet special?
One local ingredient, called shell ginger(Alpinia zerumbet), has become the focus of different studies and can be said to be a substantial contributor to longevity in Okinawa. Shell ginger has been used for various purposes in the lives of people living in Okinawa. Leaves of shell ginger have long been used as packing materials for rice cakes (Mochi) and custom to eat it to pray for good health.

Okinawa Mochi Wrapped in Shell Ginger leaves
JIPANG Ginger has outstanding antioxidant properties. Antioxidants act as "shields" for our bodies from free radicals. Antioxidants help us fight the free radicals that cause aging. Free radicals are one of the reason we age, and they cause our bodies to burn through energy faster and slow down our metabolism.
It is thought that free radicals can attack the cells in our body. They can cause cell damage and may also be linked to various other diseases. If you are not getting enough antioxidants in your diet, this can lead to oxidative stress, which can eventually lead to cell damage and risk of developing cancer, heart disease, and many other chronic illnesses and health problems.
Full of Healthy Polyphenols - 34 Times more Polyphenols than Red Wine
Shell ginger contains 34 times more polyphenols than red wine, which makes our JIPANG Ginger lifesaver supplement. The compounds in the polyphenols act like anti-inflammatory agents that stop the growth of inflammatory cells that cause inflammation. When the amount of polyphenols is increased, this makes the body's inflammatory response to particle exposure much more effective. These same compounds also protect us from other health problems, like cardiovascular disease and cancer. They help keep us out of danger since they limit the growth of many of the carcinogens that are usually involved in cancer cells' growth. This is why polyphenol intake is said to be an important component of a healthy diet.
Focusing on the traditional fermentation technique, we fermented Shell Ginger with the fungus "Aspergillus niger". So, we discovered that some phytochemicals were significantly increased. We don't know exactly how the many phytochemicals such as polyphenols, terpenoids, kava pyrones, phenylpropanoids, sterols, etc. are absorbed in the intestine.
For example, polyphenol here is 8000 types, and their absorption rates from the intestinal tract are all different. In general, its absorption rate is generally not high. The absorption rate of flavanol, chalcone, and isoflavone is about 5 to 30%. As the amount of these polyphenols increases due to fermentation, the amount of polyphenols in the blood also increases. So the anti-obesity, anti-oxidant, anti-glycation, anti-platelet, osteogenic, and neuraminidase inhibitory activities are enhanced.
Shell ginger also contains carotenoids. Carotenoids have a low absorption rate of 0.1% to a few%, but if you eat a lot of them, most of them will be taken into the body in proportion to the amount you eat. Although still in the research stage, some carotenoids in shell ginger are significantly increased by fermentation. Carotenoids have various health-promoting effects similar to polyphenols.
However, there should be beneficial enzymes and nutrients that are destroyed by fermentation. For example, curcumin in turmeric exhibits a liver function-improving effect. But curcumin must be metabolized to tetradehydrocurcumin by a special enzyme to exert its effect. If the enzyme is destroyed, curcumin is useless. (Please don't worry. This enzyme is not decomposed by fermentation because it exists in the epithelial cells in the intestine. I just write an example.)
Good Sources of Dietary Fiber
Dietary fiber is a good thing for your body. It helps to prevent the buildup of toxins in your system. Without dietary fiber in the diet, you can be at risk for irritable bowel syndrome, colon cancer, dyslipidemia, constipation, obesity, diabetes, etc. Fiber will enable your body to be able to absorb the food that you eat much more easily, thereby eliminating that problem that we talked about before. Another good thing about fiber is that it allows you to feel full faster. This allows you to eat less overall and still have enough nutrients for the rest of your day.
Shell ginger powder contains as much as 60% dietary fiber. So it is a good source of dietary fiber.

Various Ways to Drink and Eat Shell Ginger
We use only Okinawa shell ginger leaves which are carefully chosen. Since shell ginger is processed to powder, then it can be mixed with Western confectionery such as cakes, ice cream, yogurt, jelly as well as other foods. Polyphenols generally do not stay long in the body after being absorbed in the intestine. At best, for 2 to a few hours. Therefore, if you want to get the best effect of polyphenols, you should take it every few hours. For that, you are encouraged to drink shell ginger tea just like coffee. Both types – fermented type and non-fermented simple type – are OK for tea.