" Symbiotic Water " Beyond Organic, Towards Symbiosis; A Gift from Japanese Tradition.
" Symbiotic Water " exerts the following effects on the skin: it whitens, moisturizes, smooths, constricts and revitalizes aged skin, as well as helps the skin recover from damage caused by ultraviolet rays.Our skin hosts more than 1 trillion bacteria (over 10 types) all living in harmony with each other. They create a " Symbiotic Biosphere ". This is very important for the health of our skin. " Symbiotic Water " promotes this harmonious " symbiosis " between bacteria and with humans. This unique cosmetic is produced by a doctor (www.drmakise.com) who has treated more than 50,000 patients with various kinds of skin problems. Therefore, " Symbiotic Water " can be safely applied on almost all skin types.
No chemical substances are added. All natural. To make " Symbiotic Water ", a special water is used. First, pure water is filtered by a reverse osmosis membrane. 5 special stones are then dipped into the ultra-purified water. We call this water " Stone Water ". One stone emits infrared rays at normal temperature, another contains Germanium, and one contains a lot of Magnesium. The other 2 stones generate negative ions. As soon as you put " Symbiotic Water " on your skin, you feel the gentle penetration of the liquid deep into the skin. This is due to the effects of " Stone Water ". It exerts immediately its effects on the epidermis and dermis.
Alpinia zerumbet (Shell Ginger)
his is a tropical perennial plant that grows in some South East Asian nations. It is easily recognizable for its beautiful white flowers in the spring and summer. For centuries it has been used in Okinawa as an ingredient in food and used to wrap traditional rice dumplings. It contains a lot of polyphenols such as quercetin, epicatechin, catechin, kaempferol, arbutin, and more. Arbutin is known to block tyrosinase activity thus preventing the formation of melanin, which leads to a whitening effect. Our shell ginger extract blocks the activities of collagenase, elastase, and hyaluronidase. Consequently, it prevents wrinkled, marked and sagging skin. Read more about Shell Ginger.
Saxifraga stolonifera (Creeping Saxifrage)
This is a perennial flowering plant, native to Asia. It has attractive white blossoms with distinctive pointed petals and a bright yellow ovary. This herb also contains arbutin and has a strong whitening effect. It repairs the damaged DNA by ultraviolet rays. The foliage is used fresh or cooked in Japanese cuisine, and also used as an herbal remedy in Classical Japan. It contains more quercetin than onion.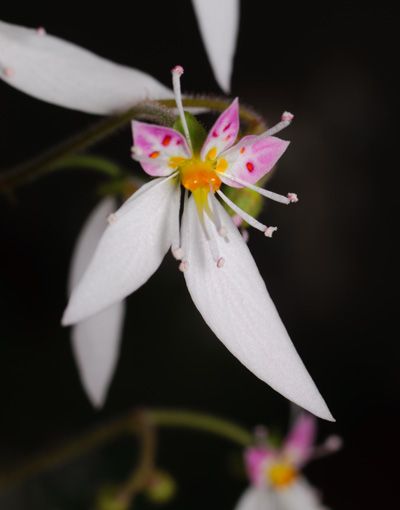 This perennial plant growing up to 0.5m -1.5 m is widely distributed in Asia, Oceanica, and the Pacific islands. It contains arbutin, kuraninol, kuraridinol, trifolirhizin all of which possess tyrosinase inhibitory activity. It also has a stronger effect of whitening than kojic acid. The roots have been used in traditional medicines for the treatment of viral hepatitis, enteritis, cancer, viral myocarditis, gastrointestinal hemorrhage and skin disease. It contains an alkaloid, matrine, that inhibits expression of substance P and NK-1R in a human model of skin inflammation.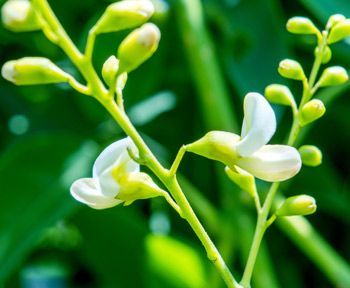 This deciduous plant is also known as witch-hazel. It is native to North America and grows to 5m to 10m tall. Since long ago, native American Indians have been using the leaves and bark of this tree to treat muscle sprain, bruise, burn, muscle pain, stomatitis, throat pain, etc. Nowadays this herb is used to improve varicose veins and hemorrhoids. This effect is due to the anti-inflammatory effect of this tree. And it strengthens capillaries by condensed and hydrolizable oligomeric tannins contained in the bark. And polymeric proanthocyanidins in the bark increases the proliferation of the keratinocytes, which ameliorates scars of the skin. And it contains arbutin and has a strong whitening effect as the above mentioned 3 herbs.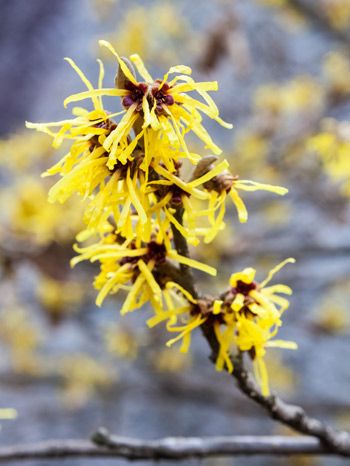 The 5 stones for " Stone Water "
The most unique idea in the process of the production of " Symbiotic Water " is application of " Stone Water ". This idea is from one of the famous Japanese traditions, the Onsen (hot spring). For thousands of years, the onsen has been loved and used for improving health in Japan. It can be dated back even to the Jōmon period (14000 BC ~300 BC). Samurai soldiers would immerse their wounded bodies into hot springs for its healing properties. Couples who couldn't have a baby went to the hot springs to improve productivity.
There are more than 3000 hot springs in Japan. And recently the health power of hot springs is re-recognized by many scientists. One of the principal causes of the power comes from the " Stones ". Hot water filters from the ground running through many different kinds of stones found in the earth. Consequently, the water contains a lot of minerals and well-balanced ions both of which improve our health. The water is absolutely natural but extremely effective to keep our skin healthy. So, we applied the " Hot Spring Theory " to the production of " Stone Water ". As a result, the most unique combination of " 4 traditional herbs " and " Stone Water by 5 stones " produces excellent " Symbiotic Water ".
Black Silica: This stone originates only in the mountains of Hiyama in Hokkaido, Japan. It emits far-infrared rays at room temperature as well as negative ions.
Magnesium Ceramic Ball: It contains Magnesium. Magnesium is an essential mineral for normal function of mitochondria.
Germanium Ceramic Ball: 4 electrons are in the outer layer of electron orbital of a germanium atom. One of the 4 electrons shoots out from the orbital at 32℃, and the electron works as an anti-oxidant.
Porous Ceramic Ball and Infrared Ceramic Ball: Both emit negative ions more than tourmaline. Negative ions are known as the " Vitamin of Air ". Our environment in modern life has a lot of electromagnetic waves filled with positive ions which are known as " Fatigue Ions ". We need more negative ions to keep the ions in the human body well balanced.
Holding the bottle 20 cm away, thoroughly spray the surface of your skin with " Symbiotic Water ". Be careful so the water does not get in your eyes.

Use your hands to massage the water into your skin. Add more water to the dryer parts of your skin. The warmth of our palm will help the water to penetrate the skin.

"Symbiotic water" can be applied to any part of the body.
Do not apply " Symbiotic Water " to any skin disorders such as eczema, rash etc –.
If your skin reacts to " Symbiotic Water " discontinue use.

If you have an allergic reaction to "Symbiotic Water", please stop and consult with a dermatologist.

Be careful to not let " Symbiotic Water " get on your eyes. In the case " Symbiotic Water" does get on the eyes, immediately wash out it.

Keep out of the reach of children. Store at room temperature, and away from direct sunlight.

Do not drink " Symbiotic Water ".

"Symbiotic Water" does not contain any synthetic preservatives, aroma chemicals, artificial colors. All materials originate from natural plants.
Ingredients: Water, Glycerin, 1,3-Butanediol, 1,3-Propanediol, Extract of Alpinia zerumbet, Hamamelis virginiana Distillate, Agar, Extract of Root of Sophora flavescens, Extract of Saxifraga stolonifera, Urea, Silica, Phenoxyethanol, Citrate
Weight: 150ml(5.07fl oz.)
Shipping weight: 230g
Warnings: Keep out of the reach of children, Keep in cool and dry place.
Manufactured by: Makise Lifeup Laboratory Co.,Ltd
Distributed by: Makise Lifeup Laboratory Co.,Ltd
Product of Japan