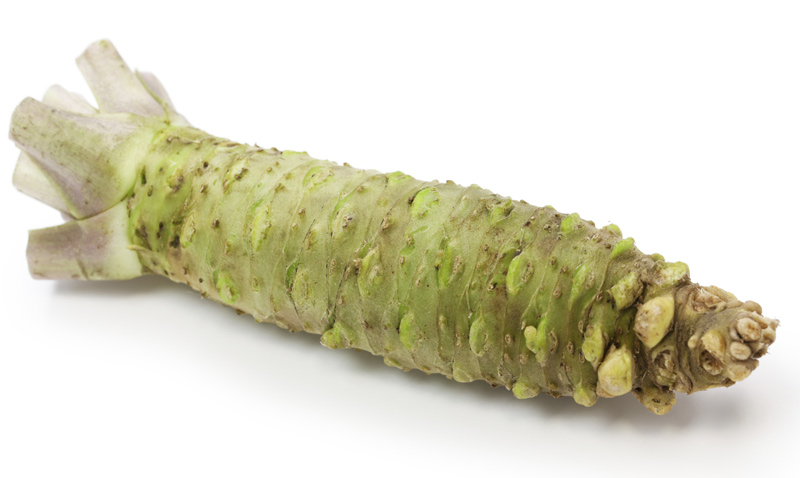 Wasabi (Wasabi japonica (Miq.) Matsumura), commonly known as Japanese horseradish, is a member of the Brassi-caceae vegetables. Its rhizome has a pungent flavor, which is popularly used as a spice among Japanese household.
Wasabi originating in Japan is the plant of Brassicaceae Wasabia. "Wasabi" written on wooden strips was found in the ruins of a medicinal herb garden in Asuka-Kyo that existed about 1300 years ago, and was recorded in "Honzo Wamyo," the oldest Japanese encyclopedia of medicinal plants, about 1100 years ago. Wasabi was traditionally used for medicine at this time, and then used as a food condiment about 800 years ago.
Wasabi contains 21 kinds of isothiocyanates. Allyl ITC (AITC), a pungent ingredient, is the most well-known compound. In recent years, 6-(methylsulfinyl) hexyl ITC (6-MSITC) has attracted attention due to various functional reports. This 6-MSITC, a type of mustard oil contained in wasabi, is also called wasabi sulfinyl.
What makes Wasabi Sulfinyl a suitable addition to our JIPANG Ginger.
Many physiological functions of 6-MSITC have been reported till date, including detoxification, antioxidation, anti-inflammation, blood flow improvement, anticancer functions, and the protection of neuronal cells. Recently, 6-MSITC has been reported to improve outcomes in mouse models of Parkinson's and Alzheimer's diseases. In addition, the data from a human clinical intervention including 37 healthy males and females who ingested Wasabi sulfinyl (WS), a wasabi extract powder containing 0.8% 6-MSITC, for eight weeks revealed that the attention and judgment of the clinical intervention volunteers were improved. Therefore, WS has recently been developed as a health supplement. https://www.jstage.jst.go.jp/article/fstr/26/6/26_813/_html/-char/ja
Various researches conducted over the years have proved Wasabi Sulfinyl to be very effective for the following conditions.
Cognitive functions Improvement
Ageing causes changes to the brain size, vasculature, and cognition. The brain shrinks with increasing age and there are changes at all levels from molecules to morphology. Incidence of stroke, white matter lesions, and dementia also rise with age, as does level of memory impairment and there are changes in levels of neurotransmitters and hormones. Protective factors that reduce cardiovascular risk seem to aid the aging brain as does increased cognitive effort in the form of education or occupational attainment.
A study was conducted to explore the effects of a wasabi root extract product rich in 6-(methylsulfinyl) hexyl isothiocyanate named "Wasabi Sulfinyl (WS)"on neurocognitive functions in the cognitively intact elderly. 37 healthy males and females (19 in test group and 18 in placebo group) between the ages of 45 to 68 volunteered for the experiment. The test group were given 100mg of WS for eight weeks. The results indicated that the test group exhibited significantly better performance in both reverse-Stroop control task and Stroop interference task of the G-SWCT at week 8. During the study no WS-induced side effects were observed. The results showed that WS may have significant beneficial effects on attention╱processing-related cognitive performance in cognitively intact middle-aged and older adults. Post-hoc analyses of subgroups suggest that non-exercisers subjects were more likely respond to WS.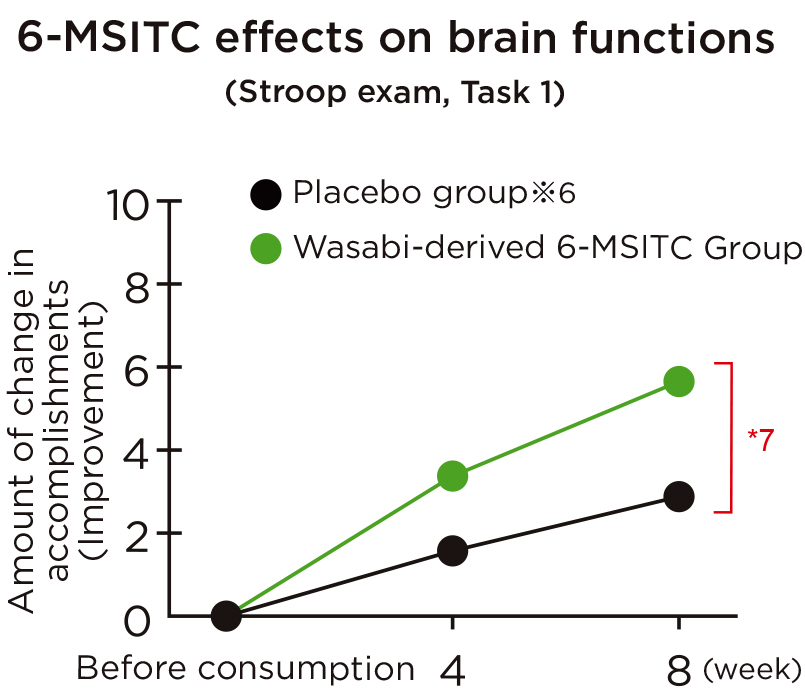 Anti-tumor and Anti-cancer Properties
Shell Ginger (Alpinia zerumbet) is a tropical perennial plant. Against three major modern diseases — Alzheimer's disease, cardiovascular diseases, and cancer — Shell Ginger exerts wonderful preventive effects. Therefore, this plant should be called a modern day 'Panacea'. The Panacea /pænəˈsiːə/ is a term named after the Greek goddess of universal remedy Panakeia. In Japan for centuries, it has been consumed in Okinawa whose population is frequently cited as "the healthiest on earth," boasts an impressively low incidence of cardiovascular disease, stroke, and cancer. The scientist made a recent experiment on worms and discovered that those fed on a daily diet of Shell Ginger lived an average of 22.6 percent longer than the control group. This miraculous plant is packed with dozens of polyphenols such as Chlorogenic acid, Ferulic acid, Quercetin, Epicatechin, Catechin, and Kaempferol. Read more>>
Why JIPANG Ginger Wasabi?
JIPANG Ginger is already high in antioxidants and very rich in healthy polyphenols which make it very effective against several diseases such as Alzheimer's disease, cardiovascular diseases, cancer, metabolic problems, skin problems, psoriasis and others. The addition of wasabi supplements the health benefits of the shell ginger to make it much more effective against cognitive functions deficiencies and several types of cancers. In this aging world, as more people are fighting to keep a healthy brain functions, we have come up with the best remedy to keep your brain functions healthy.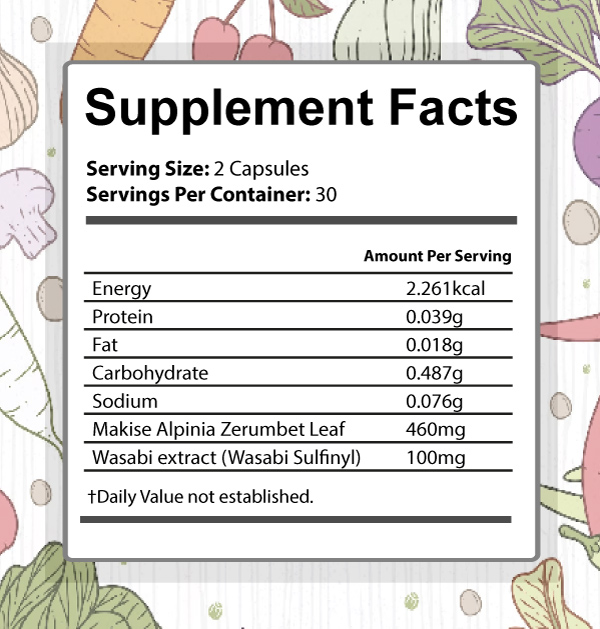 Other Ingredients
HPMC (Vegetable capsule)
Package Quantity
60 capsules
Suggested Use
2 capsules daily with or without food. If your stomach is sensitive, please take these supplements after meals or with meals.
Caution
⁃ Consult with a licensed physician, pharmacist, naturopath, or other qualified healthcare professional prior to taking dietary supplements.
⁃ Consult your healthcare practitioner if you are under the age of 18, have a medical condition, or are pregnant, lactating, or trying to conceive. Keep out of the reach of children. Store tightly closed in a cool place, dry place.